About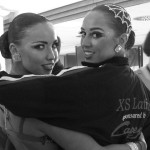 XS Latin is a Dance Club based in Cambridge, specialising in Latin Formation Dancing.
The club currently comprises three teams (XS Latin A team, XS Latin B team and the XS Latin C team) catering for all dance levels.
All three teams compete nationally and internationally and are trained by David Mallabone.
The club was founded in 1997 and was named XS to celebrate its heritage; many of its founder members were ex-students of Cambridge University. The club is still based in Cambridge although now has a diverse membership, including dancers from a wide range of backgrounds.
Our A team is the UK's most successful adult latin formation team, having won a record-breaking eight British National Formation Championships.  In 2014 they became the first British team in eleven years to make the semi-final of the WDSF European Latin Formation Championships and in 2017 became the first British team in fourteen years to make the semi-final of the WDSF World Latin Formation Championships.  In 2017, the team also won the British Open Latin Formation Championships for the first time.
Our B team was formed in 2011. It is designed specifically for less experienced Latin American dancers who would like to train and compete, and who are either looking to gain experience in order to progress or lack the time required for the A team.  Our B team has competed nationally and internationally since its inception and in 2017 won the WDC European Latin Formation Championship.  Our C team competed for the first time in 2016 and made the final of the British National Latin Formation Championship in 2017 placing in the top half of the competition.
As latin formation is very much a team experience, we are always looking for dedicated and enthusiastic men and women who enjoy dancing and competing as part of a team. If you would like to learn more about us, or have any questions, then please see our FAQs or contact us.