XS Latin A Team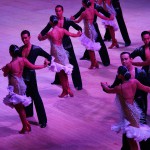 XS Latin A team was founded in 1997. Based in Cambridge, the team competes both nationally and internationally.  In 2013, the team won a record breaking sixth British National Formation Championship and in 2014 became the first British team in eleven years to make the semi-final of the WDSF European Latin Formation Championships.
The team performs routines based around the five international competitive latin dances – cha cha, samba, rumba, paso doble and jive – whilst moving in patterns and tight synchronisation. Many of our routines also incorporate tricks, lifts and free form choreography.
XS Latin A is trained by David Mallabone, who is a Licentiate member of the Imperial Society of Teachers of Dancing and recipient of the prestigious Phyllis Haylor Scholarship 2012.
If you would like to find out more about XS Latin A team then please contact us at contact@xslatin.org