XS Latin A and B teams are both available for hire and love performing at a wide variety of events, including balls, corporate dinners and charity functions.
Every performance is unique and arranged in discussion with the event organiser. Examples of our past shows are given below, to give an idea of the possibilities.
If you are interested in our dancers attending your event, please do contact us and we will be very happy to discuss your requirements!
Balls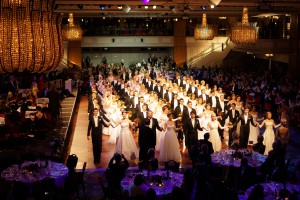 In both 2014 and 2015, XS Latin A was privileged to perform at the Russian Debutante Ball in London, alongside prestigious performers from the Bolshoi Opera and Vienna State Ballet. As well as performing their The Girl from Tiger Bay routine, many of the XS A and B team men appeared in the opening ceremony, partnering debutantes dancing the polonaise.A video of our 2015 performance is available here.

"Thank you so much for joining us yesterday. Your performance was a highlight to the ball." – Elisabeth Smagin, Lead Organiser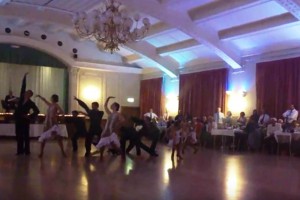 In both 2014 and 2015, XS A and B teams performed 20-30 minute shows at the Spirella ball, a well-known local event in Letchworth Garden City.The shows included our formation routines interspersed with ballroom and latin performances by individual couples.

To close the show, the teams got the audience to their feet to join them in a snowball cha cha cha.

"A VERY big thank you…. Your group gave us one of the best nights we have ever enjoyed in over 11 years of our dance evenings."  – Alan Gillman, Ball Organiser
Corporate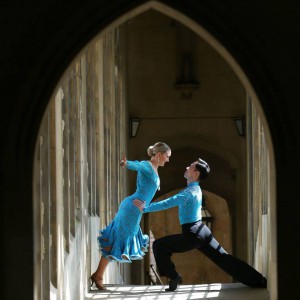 XS Latin A team give the opening performance at the launch of the University's £2 billion fundraising campaign.

The invitation-only gala dinner took place at Trinity College and included a variety of entertainment to showcase Cambridge talent. The A team worked together with CUDAR and Events Unlimited to give a classy, bespoke 5-couple performance to get the party started!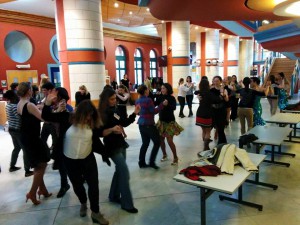 The XS club was asked to provide a demonstration of all-female dancing as an ice-breaker at a business course for female entrepreneurs, held at the Judge Business School, Cambridge.

Our XS ladies performed part of the B team's Vogue routine, and then taught the audience some basic cha cha cha and jive.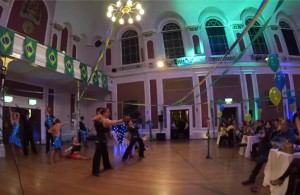 XS A and B teams performed a 30 minute show for a 

Rio carnival-

themed corporate Christmas party.To give the Brazil-carnival vibe, the teams danced amongst the tables to Conga and I Go to Rio as well as performing three-couple versions of The Girl from Tiger Bay and The Blues Brothers.

"A quick note to say thank you for your great work on Saturday night. It was really excellent and thoroughly enjoyed by all.  We loved the teaching and the show was great." – Donna Sims, Bango
Charity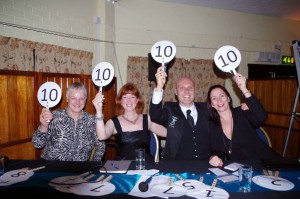 Several doctors are members of XS Latin, and so the teams were enthusiastic when asked to help Hinchingbrooke Hospital raise funds for their children's unit.
A charity dinner was combined with a Strictly Come Dancing competition, in which XS dancers performed with their 'celeb' partners (doctors and nurses from the hospital) in the hope of winning the glitterball!
The competition judges included XS Latin Coach, David Mallabone. The evening included a performance of The Girl from Tiger Bay and raised over £2000 for charity.
"Wow!  What a fabulous evening…. The atmosphere was magical, and the dancing superb…absolutely brilliant and a joy to watch." – Anne-Marie Hamilton, Chairman of Dreamdrops fund-raising committee.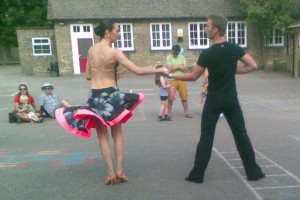 Spanish Amigos Cambridge organised a Fiesta with a Spanish-speaking countries theme in order to raise funds for EACH, a charity that supports families and cares for children and young people with life-threatening conditions across East Anglia.

XS sent a couple to demonstrate samba, rumba and salsa, as well as teaching some basic cha cha cha to entertain the children and support the cause.

"The children and parents and staff loved it!  And this helped us to raise money for EACH, so you are truly making a difference in people's lives. Thank you!" – Lory Peresson, Spanish Amigos Cambridge