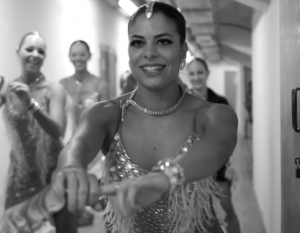 XS Latin has often dreamed of being able to work with a professional formation music producer: someone who could arrange a world class, original, piece of music especially for us.
In October 2015, we decided to make this dream a reality and, as a result, a crowdfunding campaign was developed by Stu Cork and the team, seeking help in achieving this.
We were completely overwhelmed by the support of all our friends, family and supporters, who made incredibly generous contributions and helped us to even exceed our goal!
People from all over the world, including the USA, Germany and Singapore, contributed to the campaign. The team has been together for 18 years and this is the first time that we have been able to produce our music in this way. We cannot thank everyone enough for giving us this opportunity!
This page offers our deepest thanks to all our backers, whose contribution is recognised below. Thank you also to our additional 63 backers who chose to remain anonymous.
In the words of our coach, David Mallabone: Thank you – it means more than you know.
| Name | Name | Name |
| --- | --- | --- |
| Mihhail Aizatulin | Michael Evans | Mark Nelson |
| Sophie Baillie | Ibrahim Fatkullin | Matthew Nelson |
| Jessica Barker | Debbie Fernley | Thomas Nelson |
| Tobias Berger | Nina Friedrich | Claire Nugent |
| Tom Brown | Nicola Gray | Rosey O'Keefe |
| Cambridge Dancers' Club | Michael Ha | Jean Payling |
| Kathryn Cebulski | Mary Horner | Adrian Potter |
| Richard Cebulski | Dan Kettridge | Sophie Robertson |
| Anne Cork | Khoo Lay Kee | Fatima Shawaf |
| Katie Cork | Manfred Kiese | David Tan |
| Peter Cork | Fabre Lambeau | Andrew Thomson |
| Sue Cork | Hyun Kyung Lee | Blaise Thomson |
| Kirsty Davies | Hannah Lim | Colin Tillett |
| Stan Davies (Jnr) | Zhaoru Lin | Kien Trinh |
| Stanley Davies (Snr) | Louis Ling | Mai Trinh |
| Caitlin Duschenes | Meredydd Luff | Keith Wafford |
| Conan Easson | Emily Mackay | Kim Wagenaar |
| Emma Easterbrook | Alex Marsh | Laura Watkins |
| Chi-He Elder | Michele Martin | Hanna Wikstrom |
| Guy Emerson | Solon Mias | Christine Yallup |