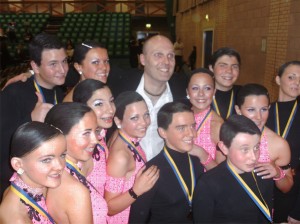 Webmaster | XS Latin
XS Latin Juniors is a Latin American formation dance team designed for young people aged between 11
and 16. The team performs routines based around the five international competitive latin dances – cha cha,
jive, paso doble, samba and rumba and is aimed at young people with some experience of Latin American
dancing, although we are happy to train dancers up to the standard required!
XS Latin Juniors was formed in 2009 as a way to encourage young people into latin formation dancing and
has competed at the prestigious British Junior Dance Festival in 2010 and 2011. The team is based in
Ipswich.
XS Latin Juniors is trained by Matthew Scales, who works with the Lait School of Dance.
If you would like to find out more about XS Latin Juniors then please feel free to contact us.