XS Latin is always recruiting new dancers of all ages and experience levels who are excited by the chance to learn latin formation dancing in an enjoyable team environment.  We recruit amateur Latin American dancers of all levels, from absolute beginners to experienced competitors.  To be eligible to compete with one of our teams you must not be a professional ballroom or Latin American dancer or possess any professional dance teaching qualifications from the Dancesport Faculties of any of the nationally recognised dance teaching bodies (e.g. ISTD, IDTA, UKA etc)
If you are interested in joining one of the XS Latin teams, please read on and get in touch!
Which team should I join?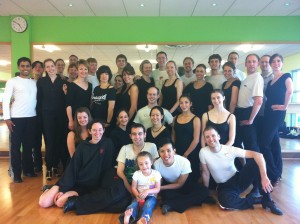 Webmaster | XS Latin
If you are between the ages of 16 and 40, you should consider joining one of our Cambridge based adult teams.
In general, the C team is for Beginner to Novice level dancers, the B team is for Novice to Intermediate level dancers and the A team is for Intermediate to Open Amateur level dancers. However, we ask that dancers, regardless of experience, initially come along to a C team session, where we can work out where the best place for you within XS Latin would be.
If you would like to discuss this further, please feel free to contact Sophie Robertson (B Team Captain) at sophie@xslatin.org, Rachel Hardisty (A Team Coordinator) at rachel@xslatin.org or David Mallabone (Coach) at david@xslatin.org.
How much does it cost?
The first two weeks of training are free to new joiners, which will give you a chance to decide if this is an activity you wish to take further.
Subsequent to this trial period, the cost of being a team member is:
A team: non-students £40/month (£35/month if paying by standing order); students £30/month (£25/month if paying by standing order) plus additional costs associated with competitions.
B team: £25/month (£20/month is paying by standing order) plus additional costs associated with competitions
C team: £20/month plus additional costs associated with competitions
How much of a time commitment is it?
XS A train twice a week, on Mondays and Wednesdays.
XS B train once a week on Thursdays.
XS C train once a week on Thursdays
If selected to compete, there is also, on average, one training day per month (on either a Saturday or Sunday). These are less frequent in the summer and more frequent during the main competition months of March – May and October – December.
Do I need to bring a partner to join?
No.  The team warmly welcomes individuals as well as established couples to join.  Indeed, when teams are selected for competitions, partnerships are made in a way to form the best overall team.
For further information please see the About Us pages under the relevant team: