XS Latin is now organising open Latin Dancesport Training sessions.
Aimed at competitive dancers in Latin American dance (whether members of XS Latin or not), the workshops focus on technique, fitness, drills and practice tips for competitors. The group is open to all competitive Latin American dancers above absolute beginner level – some basic knowledge of cha cha, jive, samba and rumba is required before dancers will find this class beneficial to their dancing.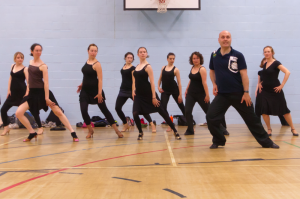 photo by Brian Cowe
Training sessions take place at Milton Community Centre (Cambridge) on Mondays from 19:15 to 20:15 and will be led by XS Latin head coach, David Mallabone.
The cost of training sessions is £1 per session for XS members and £4 per session for other dancers. Please wear appropriate clothing and bring dance shoes (with heel protectors for ladies), trainers, a towel and some water. Come along and improve your latin dancing!
**PLEASE NOTE** as of the 22nd April DLT has moved times and venues. It will now be at Milton Community Centre on Mondays from 19:15-20:15. Please do not hesitate to contact sophie@xslatin.org if you have any questions about this.
Directions