XS Latin organises open Latin Dancesport Training sessions.
Aimed at competitive dancers in Latin American dance (whether members of XS Latin or not), the workshops focus on technique, fitness, drills and practice tips for competitors. The group is open to all competitive Latin American dancers above absolute beginner level – some basic knowledge of cha cha, jive, samba and rumba is required before dancers will find this class beneficial to their dancing.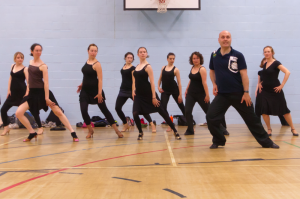 photo by Brian Cowe
Training sessions take place at Milton Community Centre, Coles Road in Milton (Cambridge) on Mondays from 19:15 to 20:15.  They are led by XS Latin head coach, David Mallabone, who will take dancers through a range of techniques and training drills to support development in competitive Latin American dance.
The cost of training sessions is £1 per session for XS members and £4 per session for other dancers. Please wear appropriate clothing and bring dance shoes (with heel protectors for ladies), trainers, a towel and some water. Come along and improve your latin dancing!
**Summer availability**
XS Latin is delighted to announce that DLT will continue to run throughout the summer apart from the following dates:
There will be no DLT on the: 5th August, 12th August and 26th August
Do I need to bring a partner to  Latin Training?
No, you don't need to bring a partner but some exercises and drills will be aimed at partnerships and people who attend without a partner are asked to partner other people in the group to fully benefit from the exercises.
Does the class teach salsa?
No, the class is aimed at the competitive international style Latin American dancers and will cover cha cha cha, samba, rumba, paso doble and jive.
I am a beginner wishing to learn latin dancing for a social event.  Is this class suitable?
The training group is aimed at dancers who are either competing or are intending to compete.  It is not aimed at social dancers.  It also anticipates that dancers will already have at least a basic grasp of steps in cha cha cha, samba, rumba and jive.  Complete beginners will not fully benefit from this class.  However, dancers returning to competitive latin after a long break should find the training group very helpful.