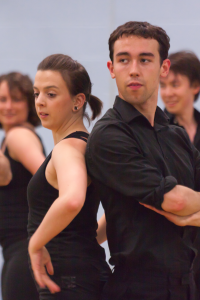 photo by Brian Cowe
XS Latin B is a new Latin American formation team, which was formed in May 2011.  It is designed specifically for amateur Latin American dancers who would like to train and compete, but who feel that they do not have either the experience or time required for the A team.
As latin formation is very much a team experience, XS B needs dedicated men and women who enjoy dancing and competing as part of a team; commitment and enthusiasm are more important than experience. Complete beginners to latin and formation, aged between 16 and 40, are very welcome.
The B team is currently working on its exciting first routine, which incorporates the five international competitive latin dances (cha cha cha, samba, rumba, paso doble and jive), whilst moving in patterns and tight synchronisation.
XS B made its competitive debut at the British National Championships in November 2011, followed by its international debut at the Danube Cup in Vienna in December 2011 where the team was thrilled to make the final of the second division competition.
XS B is based in Cambridge and is coached by David Mallabone, who is a professional member of the Imperial Society of Teachers of Dancing. Training sessions take place once a week on Thursdays at Cottenham Village College from 18:30 to 20:00.
If you would like to find out more about XS Latin B then please feel free to contact us.