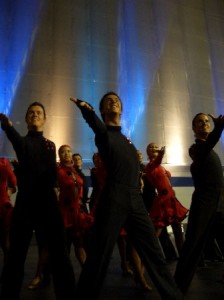 Webmaster | XS Latin
XS Latin is a Latin American formation dance team for amateur Latin American dancers.
The team performs routines based around the five international competitive latin dances – cha cha, jive, paso doble, samba and rumba – whilst moving in patterns and tight synchronisation. Many of our routines also incorporate tricks, lifts and free form choreography.
XS Latin was founded in 1997 and was named XS to celebrate its heritage; many of its founder members were ex-students of Cambridge University. The team is still based in Cambridge and competes both nationally and internationally.  In 2013, the team won a record breaking sixth British National Formation Championship.
XS A is trained by David Mallabone, who is a professional members of the Imperial Society of Teachers of Dancing and recipient of the prestigious Phyllis Haylor Scholarship 2012.
If you would like to find out more about XS Latin A team then please contact us at contact@xslatin.org